The Dream Came True For Ricardo With $847,801 Win On Super Mystic Slots At Party Casino.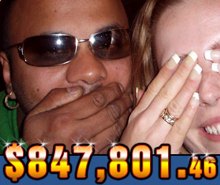 Dreams came true on March 23rd, 2007 for big progressive jackpot winner Ricardo from Holland, when a 45 cent spin on the Super Mystic slots brought $847,801.46 win at Party Casino. Ricardo hit the largest level Party Mega Jackpot on the 5-reel slot (see review of the game below).

Ricardo and his wife are both poker and bingo regulars at PartyGaming but thought they would try something new. This ime they gave the slots a spin.

"Just for the fun of it, we tried the slots," said Ricardo. "Within a couple of minutes, we'd won the $1,200 jackpot and then we won the Mega Jackpot." It's that simple!

"We stared at the screen. We were stupefied. We looked at each other and didn't believe what had happened but the money was already in our account", continues exited Ricardo. "As soon as we received a telephone call from a VIP Party Host, we knew for sure - it's real!"

The jackpot win has ensured a university education for the couple's children and may realise a long-held dream to start a fashion label.

"Now we can start living our dreams. We have been wanting to start a fashion line for years but it has always been financially impossible," said Ricardo. "We are happy we can offer our kids a better future. Now they can go to university - something that is unaffordable for most normal people."

"We would like to thank the PartyGaming organization for the great win", added the winner.

Congratulations and best wishes to Ricardo and his family!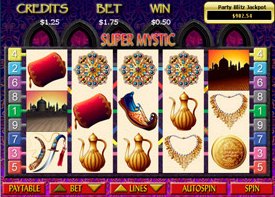 About Super Mystic slot
Super Mystic is a 5-reel, multi-payline "Party Jackpot" video slot game. For each bet placed, the house adds a percentage of the bet amount to all the 4 running PartyJackpot levels to provide you with te opportunity of winning big progressive jackpot. The levels start with Party Blitz Jackpot and move up through Party Quick Jackpot and Party Super Jackpot to the highest, Party Mega Jackpot (that was hit by Ricardo). Each Party Jackpot level can be won at random while betting any amount, irrespective of hitting any paying or non-paying combination. The minimum bet amount is just $0.01 USD for the slot while the maximum bet can reach $90 USD per spin. You can bet on up to 9 lines.


Related Winners Articles:
1. Two Party Mega Jackpot Wins In 10 Days Gives AuntyPam The Super..

(11/08/2006)


2. A Record $903,277.16 Win On Party Casino's Super Fortune Wheel..

(30/07/2006)


3. Party Casino Player 'Phantom25' Hits Record 579,000 Euros..

(21/05/2006)


4. Slotland Casino Player SOPHIJEAN Tells The Story About Her..

(01/04/2006)


5. Progressive Jackpot Winning Of $280,927.71 From InterCasino's..

(24/02/2006)



All Casino Jackpot Winners Stories



WINNING STATS: GAMES | CASINOS | COUNTRIES | PLAYERS | SOFTWARE