Monthly Promotions Winners At Slotland Online Casino For The Month Of September.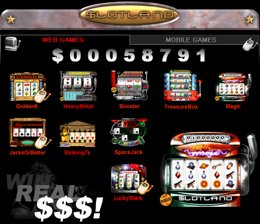 September has now passed and Slotland online casino team is still seeking out their 6th progressive jackpot winner. As you can see, the 6 digit jackpot is once more bulging and ready to break, and this could be your chance to snag it. Recognizing that only one person can be the next online jackpot winner should not be discouraging, because there are still so many ways to win at Slotland casino; Slotland's latest Monthly Winner Story offers another story of the player who won on two slot machines, representing just one of many winners, and we again offer Slotland's list below of even more lucky winners from last month.
Slotland's last monthly promotion occurred during the weekend of September 5-7, and the players took advantage of the great offers. Here are the results of this promotional weekend:
First, on Friday and Saturday, September 5 and 6, players participated in the rewarding Bonus Builder promotion. Bonuses were guaranteed all day, but the more deposits you made, the more bonuses you received! Each initial deposit earned a solid 10% bonus; a second deposit gained a 15% bonus, while a third deposit gave that player a 20% bonus! As if that were not enough, any subsequent deposits earned a fantastic 25% bonus! After the dust settled at the end of this great promotion, Slotland team found to their delight that the players grabbed more than $17,000 in bonuses!
Then, on Sunday, September 7, the casino offered Deposit Rebates to 4 randomly selected players each hour of the day! Each hour, Slotland casino system scanned all deposits made during the previous hour and selected 4 of those depositors who were then refunded their deposit (and if their deposit was less than $50, they were given $50 anyway). Casino system did an excellent job of finding big depositors to rebate this day, as we saw more than $5,500 in bonuses going to loyal players.
Finally, the casino just wound up its 10 year birthday celebration, which ran from the 1st through the 8th of October. As there were bonuses on each and every deposit made by players, Slotland team gave out thousands of free dollars during this special celebration period. They would like to send a special thank you to all of their loyal players for making this 10th birthday one to remember.
In addition to the above list of winners, Slotland's team performed monthly Slotland Gift drawing and selected 50 players who had made deposits during the promotional weekend to receive a FREE Slotland gift. Additionally, any player who had made deposits totalling $500 or more automatically won a Slotland gift item. Overall, there were a total of 90 players who received a FREE Slotland gift, and here are their names: 109SIDNEY, 31023, 43BUCKS, 5713553, ADIGBY, AIRHEAD1, AMADEOUS, AMBEROAKS, BIKER973, BOB26, BRAIZING, BRS1974, BUFARDO, CHANAENAY, CHARBISON, CHARETTE, CHAROO, CHESTNUT, CHEVY41, CONMS23, CRYSTALGEYSER, CURIOUS1, CURIOUS1, CW40, DADA43, DEEPOW, DEESTARR, DJB44, DLT1600, DOEBS40, DUMBO, DWTLAND, ELSHI, FLEECES, FRITZZ, FROILLI, GALESTORM, GERMONDO, GIDGET920, GORDONC, INDYJADE, INEEDSLIMFAST, INHALED, INNARPH, IWANNAWINBIG, JCFUN71, JENZIE30, JGHANCOCK, JGJG, JHAILS, JIMBOB1, KILADIANNA, LINDAATJAG, LONA, LORREE, MABTNG, MADDIE, MANTLE7, MARFAL, MARIJANA, MERLIN75, MIKE546, MRJNEE70, MSABATA, N3BIRD, NETDOGTV, PAQUETE, POOKYWOOKY, PSTACKHOUSE, PUTTYOM, RAZORBACK10, RHONDA2, RMSTRNG26, RNR111, SECRETARY1, SEPIN, SNAPPYGUY, TEXASTORNADO, THADHACK, THEPAPERWORKS11, THREEKIDS, TILTHUND, TREEBIRD07, TREVEL29, VILLA, WAHOO, WIGGLES, WILLNIK30, WLK1103 and ZAMGREEN.
Congratulations to all of Slotland winners and look forward to announcing even more winners next month and during the year. We appreciate the participation of each player and hope to find your name on the list next month! New players can receive 100% match bonus up to $100 free on their first deposit.
Source: Slotland Casino
Related Winners Articles:
1. August's Slotland Online Casino Winners - 6 Figure Progressive..

(02/09/2008)



2. Monthly Winners Of Slotland Online Casino - Progressive Jackpot..

(15/10/2007)



3. May Progressive Jackpot Winners of Blackack Ballroom Online..

(16/06/2007)



4. Slotland Casino's Monthly Jackpot And Promotion Winners List..

(08/06/2007)



5. Slotland Annonced Its Winners List For April - Over $40,000 In..

(04/05/2007)



All Casino Jackpot Winners Stories