V.K. won €44,125 on Treasure Nile at Zodiac Casino in August 2016.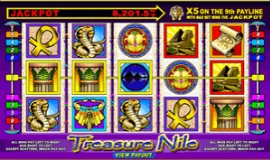 How do you feel?
Great, as you can imagine!
How are you going to celebrate your win?
We'll have a drink to celebrate today, but the real celebrations will only start when the money has hit our bank account. Once we've received the money, we'll tell the kids and start packing our bags.
What do you enjoy the most about playing at Zodiac Casino?
It's neat, has many offers and a user-friendly website; all of which makes Zodiac Casino a great experience.
You won playing Treasure Nile, what is it that you like about that game?
That's really hard to answer, it's just fascinating...
Why did you decide to play that day?
I was drinking my morning coffee, and suddenly I felt like playing.
What happened when you placed the winning bet? Do you remember the combination of the symbols?
I'm afraid not, they just suddenly appeared and then the jackpot was flashing... At first I only saw a 4 and thought it was a four-digit amount... but winning 45,000€, that's just insane! THANK YOU THANK YOU THANK YOU
Who was the first person you told?
What was the initial reaction? I told my husband straight away, but he wouldn't believe me and just laughed. Only when we received your email did he believed it, and now he is just as flabbergasted as I am!
Do you have plans already as to how you will spend your winnings??
We want to pay off the loan for the car, and take the kids on a holiday. It would be fantastic if the money hit our bank account in time for holidays so that we can already go on a trip in the next few weeks.
What would you say to our players?
Any tips or tricks to share? Just play and with a bit of luck, everybody can be a winner; have fun and don't be afraid to take a risk.
Please complete this sentence: "Zodiac Casino....."...is absolute madness!!
Thank you so much! I'm beside myself with joy and can't wait to receive my win!
Related Winners Articles:
1. F.J. won €3,400 on Treasure Nile at Zodiac Casino in April..

(08/04/2016)



2. A.R. won over $132,348 playing Treasure Nile at Captain Cooks..

(08/11/2012)



3. Online Jackpot Winner From Canada Won $45K On Treasure Nile At..

(15/02/2010)



4. Popular Treasure Nile Slot Machine Awards Over $150K In Two..

(11/10/2009)



5. $269K Treasure Nile Progressive Jackpot Has Been Won At Yukon..

(17/08/2007)



All Casino Jackpot Winners Stories
WINNER STATS:

United States - Is This Your GEO?
We try to show casinos that are available in your location (jurisdiction). If that's not your country (you're on a trip/vacation or use a VPN), you may change it below.