Another Monthly Winner Story From A Slotland Casino Player.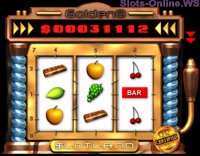 This month we add another great winner story, this time from Slotland casino player 4CLOVERS, who shares how Slotland's horoscopes guided her to one of her best times. Here is what she told us about her recent win on Golden8 online slot machine:
Every player's dream is to win big and that is just how it all began. The thought of "this time", "maybe just one more bet". And Bang, all of sudden, a lucky hit strikes across the board. It could be a small bet, a large bet or perhaps the jackpot. The thought is always there... "a hope, a blessing or just a coincidence perhaps". Yet, we never quit. "The thought of could it be this time, maybe just one more bet..." So, that is just how it all began.
Like many of you, I have my dreams of maybe this time, maybe just one more bet And just when I am about to give up, bang it always happens that I am blessed with a lucky strike.
It all happened just not too long ago that I was reading the Horoscopes, which suggested that Leo's lucky games were Jacks or Better and the Golden 8. I thought to myself Ummmm, that sounds good, who knows, maybe this time. Besides, Jack's or Better is one of my favorite games and I play the Golden 8 once in a great while. Therefore, I made a minimum deposit of $25.00. I usually start off slow, basically to check out the machine. It so happen that the Jacks or Better were hot, I mean really hot. And many of you know exactly what I mean when I use the slang "really hot". Yes, Yes, Yes... I was hitting the trips, the straights and figured "wow" this is really great. I up the ante to the three dollar bet, then the five dollar bet and soon I was playing the ten dollar bet with no care in the world. The machine was on a hot roll and I couldn't help but enjoy every lucky moment. My account went from $25.00 and soon I was up to $125.00. Can you believe that... and all of a sudden I needed to use the restroom. I thought to myself, "NO.... this can't be happening. Not now.... Grrrrr." I struggled to hold on a little longer and the more I held back the feeling became unbearable. Mother nature won. Back in a flash... I thought, "My gosh, I hope it wasn't a jinx". (Every players nightmare, especially you ladies out there. You know exactly what I am talking about). And the only way to find out was to continue where I left off. I had my bet still on the Max. And played several rounds with no luck. So, I switched to the $5, then the $3, the $1 and finally to the lowest common denominator there was.
"How low can I go?" I thought. "This cannot be happening". After five minutes of grueling sighs and ahhhs, the machine was back on the roll. And in the nick of time, I automatically switched to the five dollar bet and the machine was still "hot". I made the ten dollar bet. After a few spins, it so happened that I was dealt three FOUR'S. I remembered on the Horoscope that Fours was the lucky number as I closed my eyes and clicked to draw. I waited a few seconds and peered with one eye. And can you believe this... another 4 appeared with the total of $250.00 buckaroos added to my account. With both eyes open I was clapping like you never could believe and joyfully yelling out loud "YES, FINALLY!'
I immediately switched to play the Golden 8's. First, starting out with the dollar bet until I got five of the blue diamonds, then I clicked on the maximum bet for the last blue diamond. After several spins and no luck, all of a sudden the machine turned gray signalling the free spin... "Yes, Yes, Yes" I yelled as I closed my eyes for the spin, hoping and clapping. Imagine that... There it was, three bars lined in a row. The prettiest of them all. Imagine that... another $150.00 was added to my account. Which by then my account was up to $375.00. I had a hunch to switch to the Jacks or Better, which I did. I played and played and played. And despite the outcome, I had the fun of my life. A time in which for just one moment it was just me and the machine. And so it goes... Maybe this time, just one more bet.
Congratulations to 4CLOVERS. Everyone should be sure to remember to read your personal horoscope each month; it might just give you the winning tip you need! You can find your monthly horoscope with lucky numbers and recommended online and mobile games on Slotland casino website - you need to register an account with the casino. New players can claim 100% match welcome bonus up to $100 free plus extra deposit bonuses. Note: The best time to make deposits at Slotland in the first week of each month. At the beginning of each month you can get extra percentage bonuses, gift items and take part in cash/prize draws and other promotions. Just register an account and wait for the hottest promotions in Slotland's emails.


Related Winners Articles:
1. TOPNOTCHED Wins Record-Breaking $179,166 Jackpot On Golden 8;..

(03/04/2007)



2. 'WILSON3970' Hit Record-Breaking $147,486 Jackpot Playing..

(10/07/2003)



3. Slotland Monthly Winner Story - A Player Deposits $25 And Wins..

(08/06/2008)



4. Another Monthly Winner Story From Slotland Online Casino Players

(11/02/2008)



5. 2007 Progressive Jackpot Summary - Biggest Slotland Online..

(14/01/2008)



All Casino Jackpot Winners Stories