Robbie P won bundles on 75 Ball Sapphire Bingo at JackpotJoy Casino.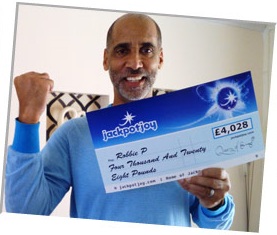 Robbie P. was ecstatic with his £4,028 on Lounge Bingo!
"I'm so excited about my big win - I can't believe it! I've had so much trouble with my boiler recently and got quoted that it'd cost £3,000 to fix it. Anyway, I came in from work late and checked the Lounge because I wanted to leave some tickets running through the night as the jackpot was near £4,000. I went to bed and when I woke up the next morning I thought 'wouldn't it be nice to turn the laptop on and see that amount in my account'. I turned it on after getting ready for work and couldn't believe my eyes - I thought I was dreaming!
We are absolutely over the moon, thank you so much! P.s my story doesn't end there... I didn't tell my wife about my win until the big cheque arrived and when she came home from work I stood there with it in my mouth - you should have seen her face! She stood there trying to make sense of it all until she realised what it was and then screamed and cried. We can finally get a new boiler, thanks again!"
Congrats Robbie, keep on winning!
Play Sapphire Bingo 10p at Lounge Bingo Room. You'll find Patterns, Blackouts and Big Money Jackpots galore in JackpotJoy's 75 Ball Bingo Rooms!
Related Winners Articles:
1. Congrats Margaret U Who Won GBP57,369 on Sapphire Bingo!

(16/07/2016)



2. JackpotJoy Player Cara T Won a Fortune on Sapphire Bingo

(03/07/2016)



3. Joanne M Won GBP10,018 on JackpotJoy's Sapphire Bingo 10p

(01/07/2016)



4. JackpotJoy Player Laura E Won GBP8,505 on Sapphire Bingo 10p

(16/06/2016)



All Casino Jackpot Winners Stories