July 2016 Online Casino Winners Stories.

July 18, 2016. A Swedish Player Won €113,913 on Mega Fortune Dreams Touch Slot. A Swedish player who had been with PAF for 10 years won €113,913 on Mega Fortune Dreams Touch and his first dream was about love. PAF managers asked their lucky big winner what he did first and what he will do with the money. His answer warmed our hearts: "I told my wife first. She was as surprised as I was. Now a wedding that never really happened will happen!" The lucky player has been with..

July 18, 2016. Darren H Hits GBP2,082 on Game Show Bingo at JackpotJoy. JackpotJoy's player Darren H was over the moon with his £2,082 win on Game Show Bingo! ďI had never played Bingo before! After Iíd seen my wife play onsite I decided to join as there was such a wide variety of tickets and rooms. It was the start of the week and after finishing my tea I went to get on my laptop to play but my wife had managed to get there first! I managed to get on it at 9pm and..

July 16, 2016. Congrats Margaret U Who Won GBP57,369 on Sapphire Bingo! Margaret U was delighted with her £57,369 big win on Sapphire Bingo 10p at JackpotJoy bingo site! ďThank you so much for my win! I bought a touring caravan and we have been on holiday for 3 weeks - itís been amazing! My whole family are very excited that we can go on holiday whenever we get free time and I couldíve never had any of this if it hadnít been for your site. I will keep playing and..

July 14, 2016. Heidi From Finland Scoops EUR 4M Mega Fortune Dreams Jackpot At CasinoEuro. CasinoEuro player from Finland scoops €4 Million jackpot on Mega Fortune Dreams slot machine. NetEnt, the leading developer of exciting world-class digital casino games, has delivered another life-changing moment with the fall of a EUR 4 million jackpot on its hugely popular progressive slot Mega Fortune Dreams. CasinoEuro player Heidi, 28, from Finland, won an incredible €4,009,504 this..

July 10, 2016. B.L. won €254,639 on Major Millions 5 Reel at Luxury Casino in July 2016. First of all, how do you feel? At first, happy but rather confused! I just saw numbers and I didnt realise it, hence why Ive called you! How will you be celebrating your win today? With my family including my two kids. What do you enjoy most about playing at Luxury Casino? It is very easy to play and by using your smartphone it is possible to win anywhere- for example in the waiting room when you wait..

July 7, 2016. Robert bagged Vera & John Casino's Daily Guarantee top up in under 7 hours! The luck of the Irish was definitely at work when Robert from Dublin got topped up with an extra €1,158 to hit Vera & John's €10,000 daily Guarantee on his very first day at Vera&John online casino. Amazing! We have to admit - this one surprised even the most seasoned casino veterans at Camp V&J. Only 7 hours before his big win came tumbling in, Robert didnít even have an account - now itís..

July 6, 2016. Johan from Sweden Won a EUR 3,368 Cash Splash Jackpot on His Lunch Break. Determined to enjoy a bright patch of beautiful Spring sunshine, Johan left his office in Huddinge (Sweden) to enjoy his lunchbreak outside. Thanks to his trusty phone, he could even play a few spins on Cash Splash at Vera&John casino... and thatís when his relaxing break got even better! A jackpot win of €3,368 suddenly flashed up on Johanís screen after heíd been playing for only a few minutes...

July 4, 2016. R.L. won CAD$40,538 on Treasure Nile at Zodiac Casino in July 2016.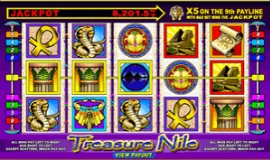 Hi there,

Did I really just win the Treasure Nile progressive? Over $40,000? I am totally freaking out right now.

Im hoping this isnt a dream. Thank you! !!!! Dont think Ill be able to sleep now ??



July 3, 2016. Lucky Swedish Player Nets EUR 3M Jackpot on Mega Fortune Progressive Slot. NetEnt, the leading digital entertainment company, has paid out a progressive jackpot of almost €3 million to a lucky online slots player. The jackpot fell to a Casumo player, playing the popular Mega Fortune slot, and totalled a remarkable €2,971,469.49. David, from Sweden, said he and his partner took turns to spin the reels ahead of the big win. He said: ďThe Bonus Reel was spinning..

July 3, 2016. JackpotJoy Player Cara T Won a Fortune on Sapphire Bingo. Cara T was delighted with her £1,250 win on Sapphire Bingo 10p at JackpotJoy. ďIím still buzzing and overjoyed with my big win! The feeling I got when my winning number came out will never leave me, I was running around the house screaming. Iíve been playing for nearly 10 years and it was my first ever big win - it feels amazing, thanks again!Ē said the winner. Congratulations Cara, enjoy..

July 1, 2016. A.K. won €52,950 playing the classic slot Bust the Bank at Casino Classic in July 2016.
First of all, how do you feel?

I do'nt even know how to describe how I feel right now! ' Ill probably realise that it is real when the win is credited to my account.

How will you be celebrating your win today?

The plan with this money is to put a deposit down on a condominium.

What happened when you placed the winning bet?

It all happened so quickly during the Free Spins round.

Could you please complete this sentence: "Casino Classic...."

Casino Classic in just a word? GREAT!



July 1, 2016. Joanne M Won GBP10,018 on JackpotJoy's Sapphire Bingo 10p. Joanne M was ecstatic with her £10,018 win on 90-Ball Sapphire Bingo 10p at JackpotJoy. ďI thought I had only won 2 lines until I saw that my balance read £10,000+! I was in total shock and didnít quite believe it. The win came at a great time, just a few days before my birthday and my sonís 21st, so we celebrated with the family and I took them out for a lovely meal. I also upgraded my car..

All Casino Winner Stories

Previous Monthly Casino Winners News:
Jun '16 May '16 Apr '16 Mar '16 Jan '16 Dec '15 Nov '15


Player
Win
Game
Date
Casino
Heidi
€4,009,504.10
Mega Fortune Dreams
Jul 14
Casino Euro
David
€2,971,469.49
Mega Fortune
Jul 03
Casumo
Player SV
£648,619.44
Mega Jackpots Cleopatra
Jul 21
Sky Vegas
Alex
£356,292.00
Lucky Duck
Jul 11
William Hill Vegas
Player 10p
£351,256.24
Tiki Temple
Jul 05
JackpotJoy
Player 20p
£321,305.84
Tiki Temple
Jul 10
JackpotJoy
JL
€285,247.22
Cash & Carry: Shopping Spree
Jul 28
Paf
Player 10p
£187,715.40
Deal or No Deal 10p
Jul 13
JackpotJoy
Player 10p
£187,657.00
Tiki Temple
Jul 13
JackpotJoy
Player 10p
£172,195.10
Tiki Temple
Jul 27
JackpotJoy
All Winners of July 2016, Top Games and Daily Stats »