Lucky Nugget Casino Player Lucille L. Hits $6,994.75 SupaJax Progressive Jackpot.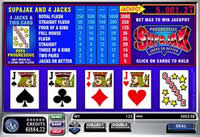 Lucille L.
won $6,994.75 progressive jackpot playing SupaJax on May 28th at
Lucky Nugget
online casino. SupaJax is a video poker game based on
Jacks Or Better
and offiring progressive jackpot if you hit Supajax and four Jacks. A new High Roller and winner, Lucille L. told to the Jackpot Madness manager in the interview:
Did anything unusual happen the day that you hit the jackpot?
I played some different games from those that I usually play.
What was your initial reaction when you won?
I was excited to have that much money to play with so I proceeded to play some of the higher stake games that I usually don't play.
How will you spend your winnings?
I will set the money aside to play more and not have to think about taking the money from my usual sources.
How long were you playing before you hit the jackpot?
Just a few minutes.
What piece of advice has most helped you through life?
Don't sweat the small stuff. I have been a worrier all my life and I've tried hard to not do that. And when I succeed it is much easier to go through the day and not be bothered by small things, for example, waiting in doctor's office, heavy traffic, and so on.
What is your dream holiday destination?
To be able to take my entire family, and maybe even some friends, to Atlantis on Paradise Island in The Bahamas.
What do you do in your spare time?
Besides gambling, I go the theater with a group of women my age about once a month. We go anywhere from locally, to New York City, to out of state. I also spend a lot of time with my family and baby-sit my great nieces.
What is your ultimate goal in life?
To try to stay healthy, enjoy life every day and spend a lot of time with my family and friends.
Is there anything else you would like to tell us about yourself?
60 years old. Divorced. I have several medical problems, but I try not to let the disabilities affect me any more than necessary - people are always surprised at how much I can do with my limitations. I used to think that if you can't do something well you should not do it at all. Now I know that is not true. I now do things for the fun of it and it doesn't matter how well or poorly I do it. It makes life a lot more interesting and less stressful.
Source: Jackpot Madness
Related Winners Articles:
1. Player Hans H. Hits $9,213.29 On SupaJax At First Web Casino In..

(25/05/2005)



2. SupaBirthday Of Casino Player 'Pamela C.' Who Won $5,854.60 On..

(13/05/2005)



3. SupaJax Win Pays For Computer - Marty H. Hits $12,664.91 Jackpot

(23/03/2005)



4. Watch Out For Those SupaJax Wins! Vicki H. Wins $18,328.65..

(18/03/2005)



5. SupaJax Jackpot Winner Lois S Can't Stop Playing

(09/02/2005)



All Casino Jackpot Winners Stories
WINNER STATS:

USA - Is This Your GEO?
We try to show casinos that are available in your location (jurisdiction). If that's not your country (you're on a trip/vacation or use a VPN), you may change it below.