7 Sultans player Christine D won two Cash Splash jackpots.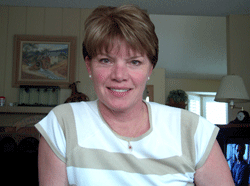 Christine D has won 5 progressive jackpots at
7Sultans online casino
since April 2003. Two of them were Cash Splash jackpots.
On 12 April 2003 she won $90,211.01 on Cash Splash. On February 7, she won $30,761.13 playing Cash Splash.
Did anything unusual happen the day that you hit the jackpot?
My best friend was visiting from AZ. I also gave a homeless man some money that day at the Post Office.
What did you do when you realized you'd hit the jackpot?
Wow! I actually had put the casino on "autoplay" so we could eat dinner and I could still play. I came in to reset the autoplay for another 100 spins and...there it was saying that I had won the progressive jackpot.
How will you spend your winnings?
I have helped the Tsunami survivors and bought a goat for a poor family through "feed the children". I love helping others, it really makes you feel great! I also give my children some of the winnings.
How long were you playing before you hit the jackpot?
On and off through the day, but then at night it was on auto play while we ate dinner.
What do you do for good luck?
I don't do anything for good luck. I guess I'm just a lucky person.
What piece of advice has most helped you through life?
My parents always told me to help others through life that were less fortunate than me.
Related Winners Articles:
1. Marcia Visualizes The Winning Combination. Marcia K. Wins..

(10/04/2003)



2. Jackpot Helps Winner Finish College. Robert W. Wins $50,824.71..

(05/03/2003)



3. Treasure Nile Jackpot Floods. Greg S's Family Wins $52,999.89..

(26/01/2003)



4. Wowed by WowPot Win. David L. Wins $29,844.93 Playing Cash..

(17/02/2002)



5. Jordan Hit a Big One. Jordan P. Wins $46,954.66 Playing..

(17/02/2002)



All Casino Jackpot Winners Stories
WINNER STATS:

USA - Is This Your GEO?
We try to show casinos that are available in your location (jurisdiction). If that's not your country (you're on a trip/vacation or use a VPN), you may change it below.