A sleepy evening turned into a EUR269,789 jackpot bonanza for Fredrik.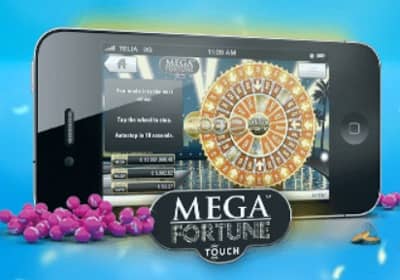 A sleepy evening at home turned into a
€269,789
jackpot bonanza for Vera&John's player Fredrik! He went from €1.25 bets to a whopping six-figure win, all thanks to the major jackpot on
Mega Fortune
right here at Vera&John online casino.
Who says an evening at home with the kids is boring? Fredrik decided to make the best of it - and a huge helping of good luck fell right into his lap. How's that for a bedtime story?
"I was just relaxing at home on a Friday evening," Fredrik told the VJ team after his amazing win. He'd had a long, tiring day at work, and it was just him and the kids alone at home for the evening. "Since the kids were already sleeping, I decided to try some spins on Vera&John!"
The lucky 35-year-old winner set his sights on Mega Fortune slot, and what a great decision that turned out to be! A jackpot win of €269,789 appeared out of the blue.
"It just felt unreal!" Fredrik smiled as he remembered his jackpot victory. Surprisingly calm at first, it took a long time for this lucky slot champion to realise what had actually happened- and even then, he kept checking his account over and over again to make sure it was real.
Of course, €269,789 isn't the kind of money you can just keep to yourself - though Fredrik is trying his best. He told the lucky Mrs Fredrik as soon as she got home that night, and she's just as excited as he is. Other than that, this jackpot win will have to be Fredrik's best-kept secret.
Speaking of secrets, we did ask fortunate Fredrik what his best advice for fellow players would be, and he had some sage words to share. His top tip for a happy casino experience is never to play with more than you can afford - wise words, indeed!
So, what keeps this plucky player coming back to Vera&John time and time again? Well, for him it's all about the people! "I'm so impressed with the professionalism at Vera&John. I've met great people and they've all treated me so well!"
Well thanks, Fredrik! We think you're pretty awesome too!
Even a lazy Friday in can turn out to be the greatest party of your lifetime thanks to a jackpot win from
Vera&John!
Related Winners Articles:
1. Weekend of 3 big poker and slot jackpot wins at PAF Casino

(22/10/2017)



2. A Woman from Central Finland Wins EUR3.5 Million Jackpot in the..

(18/01/2017)



3. Norwegian Player Wins Almost 5M Euros On Mega Fortune Slots At..

(15/09/2016)



4. A Swedish Player Won €113,913 on Mega Fortune Dreams Touch..

(18/07/2016)



5. Heidi From Finland Scoops EUR 4M Mega Fortune Dreams Jackpot At..

(14/07/2016)



All Casino Jackpot Winners Stories
WINNER STATS:

USA - Is This Your GEO?
We try to show casinos that are available in your location (jurisdiction). If that's not your country (you're on a trip/vacation or use a VPN), you may change it below.