Monthly Winner Story Of Slotland Casino Player GREG121414.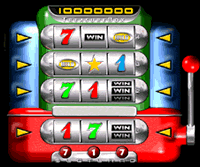 October turned out to be the month when Slotland's 6th big jackpot winner of the year appeared, as MINE0MINE struck it rich, hitting $134,253 while playing Golden 8 slot on October 23. We are seeing the jackpot build again and who knows when it might next break and into whose lap the money will fall! While it is always exciting to announce another large jackpot winner, we also love to celebrate the daily winners as well. This month we offer another great winner story, this time from Slotland online casino player GREG121414, who worked Lucky Stars and Treasure Box into quick fat wins at Slotland:
"Slotland is AWESOME! Of all the internet gambling sites, Slotland is the most generous and honest!
I had an outstanding summer with so many wins I lost track of them all! Each time I would make a withdrawal, I would think the computer KNEW and would not let me win again. Boy, was I wrong!
In September, after a few deposits and even a major $500 bonus win, I played one night and did terrible for a while - then wham! the wins began again with Treasure Box! I hit the treasury for $280 and more with all 7's - then later hit three red ones for $1200 - I was on a roll!!!
I then went to Lucky Stars and hit for $200 more. Then back to Treasure Box and more wins with all 1's and all 7's. After this win streak, I ended up withdrawing $2000 (due to the last big win of wild, star, star)!!! You never know when the wins will begin and come on strong!! One thing I do know after 7 years with Slotland is that on Jacks or Better the third bet after logging on usually pays off (over 90% of the time)!
Thank you Slotland and keep up your good work in Africa!
P.S. There is no other site out there that matches your highest monthly deposit 100% for VIP's like Slotland does - their bonus program is amazing!"
Congratulations to GREG121414! Slotland casino credited $1,000 bonus into his player account (remember, VIP Players get double the bonus) for sharing this great story, and the excellent Jacks or Better secret! Due to one of the best bonus programs in online gaming, players receive more then $25,000 in reglar cash bonuses in October. PLUS, the results are in, and during Slotland's grand 10 year celebration, the casino handed out more than $338,000 in bonuses to all of its players!
Source: Slotland Casino
Related Winners Articles:
1. Slotland Casino Player MISSMICHELLE Tells Her Winner Story -..

(07/09/2008)



2. Player P987987 Hits GBP51,544.69 Cash Builder Online Bingo..

(27/07/2008)



3. Another Monthly Winner Story From A Slotland Casino Player

(07/07/2008)



4. 'Who knows what tomorrow will bring?' Ask Fortune Lounge Winner..

(21/06/2008)



5. Slotland Monthly Winner Story - A Player Deposits $25 And Wins..

(08/06/2008)



All Casino Jackpot Winners Stories
WINNER STATS:

USA - Is This Your GEO?
We try to show casinos that are available in your location (jurisdiction). If that's not your country (you're on a trip/vacation or use a VPN), you may change it below.