Slotland's First Mobile Jackpot Winner Hits $159,357 Progressive in Bed.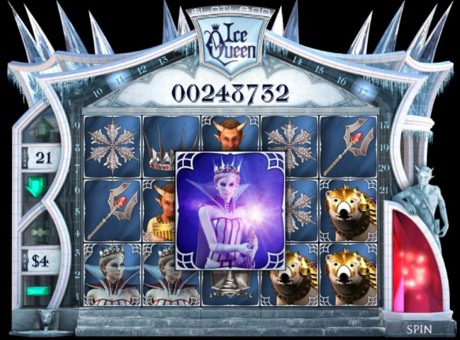 Slotland
has had its first player to hit the jackpot while playing a mobile slot game. Most of Slotland's one of-a-kind slot machine games are tied to one progressive jackpot, and they can all be played on any mobile device, so it was only a matter of time before a someone won a big jackpot playing on a smartphone or tablet.
Last week, Johnathon E. won $159,357 playing the
Ice Queen slot game
on his cell phone. He was in bed at the time.
Ice Queen is Johnathon's favourite game, but he says he's also been playing the new Treasure Island slot lately as well.
The mobile jackpot winner says the first thing he's going to buy with his winnings is a new phone.
"I've been wanting an iPhone 5 and now I don't think I need to deny myself any longer!" said the excited jackpot winner.
He also said he's been trying to find a nice retirement community for his elderly mother and this win gives him more options.
"You know what I'd really like to do is hire a landscape architect to design the garden of my dreams," he added. "Then, if there's anything left, it's time to replace my old Corolla with a new one."
This isn't the first Ice Queen jackpot winner. Just before Christmas, Charles N. won
$182,782
playing the deluxe slot game.
"It's not just a coincidence," laughed Slotland manager Michael Hilary. "Ice Queen is our most popular game right now. That and the new Treasure Island. With so many people playing it I'm not surprised it's produced another big winner so soon. Of course, could be that it's just a loose and lucky slot!"
Making its debut just over a year ago, Ice Queen is a sparkling winter fantasy from the pages of Hans Christian Andersen with a magical Bonus Game. The boy, kidnapped by the Ice Queen in the classic fairy tale, and the sister who struggles to rescue him, appear in the beautifully illustrated and animated Bonus Game. Players choose a magic wand for them to shatter ice statues - and win extra chips.
A favorite in the instant play online casino, Ice Queen is also one of more than a dozen mobile slots that have been especially enhanced for iPhone, Android and Blackberry.
View this casino news story on YouTube: http://youtu.be/VG-OX4-fgm4
About Slotland Casino
Established in 1998,
Slotland
is renowned for its fairness, security and sincerity. Slotland's progressive jackpot is currently won on average every 6 weeks and usually stands at over $100,000, making it one of the most frequently won jackpots on the Internet. In 2005, the pioneering entertainment company introduced its first slot machine for the mobile phone/PDA platform. Slotland has been voted "Most Unique Slot Site" and "Best Progressive Jackpot Site" by Strictly Slots Magazine readers, named "Best Web TV" in a Gambling Online Magazine poll, and selected as a finalist in the ME Awards "Best Mobile Gambling Company" category.
Related Winners Articles:
1. Congratulations to Slotlands $182,782 Ice Queen Jackpot Winner

(10/12/2013)



2. Winner Did Victory Dance When He Hit $135,417 Jackpot on 'Heavy..

(21/08/2013)



3. Slotlands Recent $141K Jackpot Winner is Looking Forward to a..

(04/06/2013)



4. Slotland Casino Have Just Paid Out Its Biggest Jackpot Ever!..

(03/04/2013)



5. Mobile Player From Newcastle Cleans Up William Hill For..

(12/09/2012)



All Casino Jackpot Winners Stories
WINNER STATS:

USA - Is This Your GEO?
We try to show casinos that are available in your location (jurisdiction). If that's not your country (you're on a trip/vacation or use a VPN), you may change it below.