A Funny Thing Happened To Gwen K The Other Day - Lottery Jackpot Story.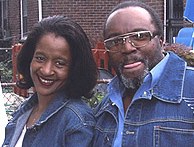 Here is the full story of loyal Fortune Lounge online casinos' member Gwen K:
"Well let me give you a little history first. I was raised in a home were we played cards for pennies. I would go to Bingo with my mother as a child of 12 or 13 and played Bingo with her and at 16yrs you could play in Canada.
You see I live in Detroit, Michigan - The home of the World Champion 2003-2005 NBA "Bad Boys" Detroit Pistons, Host to Superbowl XL which I was one the volunteer ambassadors to welcome the world to Detroit. Host to NCAA Championship, and don't forget the 2005 NWA Champion Detroit Shocks, Don't forget those Detroit-Red Wings.
I got married in 1989 in Las Vegas. Happily still married to the same man. We try to get to Vegas at least once a year. We did until the children came. But being that I live in Michigan we would drive to the Indian Reservations to gamble. Then Detroit got 3 casino's and there are some in Canada, a 5 minute drive from Detroit, MI. We have the Ambassador Bridge and Tunnel which lead from Detroit to Windsor in minutes.
That brings me to Lottery Instant Scratch Off tickets my second love - I love lottery games that you can win at least $250,000 so most of the tickets I play are $5- $20 cost with a chance to win prizes up to $2,000,000 jackpot. People give them to me as gifts and buy them everyday. I break even with them. Better than any other game I like to play. My luck was lost 5 years ago.
So this one day my husband brought some of the games that I usually play and another game that he said was new - and the jackpot was $1,000,000 and he thought I would like to try it out. So I sat on my bed as I usually do and played my scratch off. I decided to play the new game first. I scratched and scratched and could not believe my eyes. I only needed one more number to win. When I saw that number I jumped from the top of the stairs to the bottom. Hollering Cha Cha Ching. Chaching, repeatedly. Crying jumping up and down. My husband and son was laying on the floor laughing. They went to the Gifts and gags and got a trick lottery ticket. I didn't find it funny when I turned the ticket off on the back. ( Gotcha) in small print."
Source: Fortune Lounge group
Related Winners Articles:
1. £1,094,112.81 Major Millions Progressive Jackpot Won At..

(27/02/2008)



2. $269K Treasure Nile Progressive Jackpot Has Been Won At Yukon..

(17/08/2007)



3. A Lucky Punter Has Scooped The UK's Highest Ever Online Jackpot..

(30/06/2007)



4. UK Gardener Rakes In World Record Million-Dollar Online Casino..

(21/06/2007)



5. Record-Breaking Online Jackpot Over $8 Million Won At..

(17/05/2007)



All Casino Jackpot Winners Stories
WINNER STATS:

USA - Is This Your GEO?
We try to show casinos that are available in your location (jurisdiction). If that's not your country (you're on a trip/vacation or use a VPN), you may change it below.