Mikko from Finland Gets a EUR45,400 top-up to his EUR54,600 Win on Live Roulette.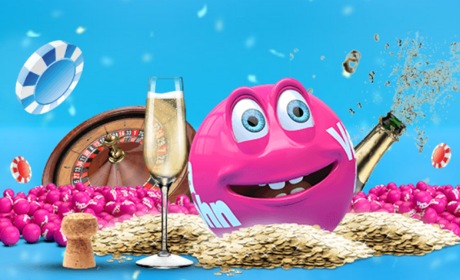 Mikko
has been a loyal V&J spinner for a couple of years now, and he's living proof that practise makes perfect! His motto for the roulette table seems to be "go big or go home!", which turns out to be a
winning strategy
!
It was a cold November day in Helsinki when Mikko decided to try his luck at the
Live Roulette (Paris) table
at Vera&John online casino... little did he know how much things were about to heat up, fast! After a big win of €10,800, most folks might call it a day, but that's not Mikko's style! Instead, he gathered up his chips and placed a daring €7,700 bet on a few numbers on the roulette table.
The roulette wheel spun around for what must have seemed like an eternity until - click, click, click - Mikko had won a stunning €54,600 in one lucky spin! When we asked him about his notorious roulette round, Mikko was cool as a cucumber! "It's a numbers game, a game of luck. I like to bet on a few numbers and then if it hits, it will hit big". He also shared some words of wisdom about keeping your spirits high when it seems like luck isn't on your side: "Some players lose faith after a few unlucky rounds and just quit playing. But I try to keep my hopes up that soon, I'll win big!"
Some online casinos might be pleased as punch when they score such a massive win, but Vera&John believes in going big or going home! And that's why V&J topped Mikko's balance up with a nice big
€45,400!
Mikko wasn't even expecting the top up because he had no idea about Vera&John's
Monthly Guaranteed Winnings!
We think that an unexpected €45,400 top up is the best kind of surprise, don't you?
When the initial shock wore off, the first thing on the Guaranteed Monthly Winner's mind was a holiday. He plans on jetting off "somewhere South to escape the long winter". Sounds like a plan to us, Mikko!
If an unexpected exotic holiday sounds as good to you, why not try your luck on one of the exciting games at
Vera&John online casino
. Or you could take a page out of Mikko's book and spin the wheels on any of the Live Casino games - and remember to have a little faith!
Related Winners Articles:
1. A Record-Breaking EUR70,570 Top Up For Jan From Vera & John..

(11/11/2016)



2. Wolf Pack Awards a Big Win to Jeanette From Sweden

(26/10/2016)



3. Robert bagged Vera & John Casino's Daily Guarantee top up in..

(07/07/2016)



4. Johan from Sweden Won a EUR 3,368 Cash Splash Jackpot on His..

(06/07/2016)



5. Lars from Norway Wins Huge Jackpot of GBP1.3 Million on Hall of..

(19/01/2016)



All Casino Jackpot Winners Stories
WINNER STATS:

USA - Is This Your GEO?
We try to show casinos that are available in your location (jurisdiction). If that's not your country (you're on a trip/vacation or use a VPN), you may change it below.