Lucky Stars Brings Some Cash To Veteran Slotland Online Casino Player.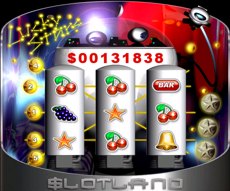 As always we are proud to present you yet another monthly winner story from Slotland online casino. Every win at Slotland is a special event, both for players and for the crew at Slotland. Slotland staff loves seeing their players win, and they all love building long-term relationships with all of their players. In this month's winner story from player with the name RAGERRM, hear how one of Slotland's long-term players approaches her play at the casino:
I Thank My Lucky Stars
I am so thankful for my lucky stars. I began one day with my usual deposit of $200. I was lucky enough to win a 100% match on that deposit. I started playing my favorite game of Lucky Stars [one of the Slotland's progressive jackpot games with 3 reels and 5 paylines, also available on the mobile platform].
Well, with $400 in my account I had a good start on some serious playing time. I started out with a $5 bet and soon I hit three green 7's bringing me up to $500! I decided to up my bet to $10 and, lo and behold, I hit the three stars in a row! I thought that I was dreaming. Six hundred more dollars added to my little kitty.
I kept playing and eventually had my pot up to $1100. I thank my Lucky Stars over and over for being a player at Slotland. I have never won the big pot, but I have a lot of fun winning, period!!!
Thanks Slotland for being the type of casino that a person would be proud to be a patron.
Our congratulations and gratitude goes to RAGERRM. Slotland casino deposited $1,000 into her VIP player account for sharing the views of a long-term and loyal player, along with a very nice win! Veteran players really know how to tell it! Good Luck to all players!
Source: Slotland Casino
Related Winners Articles:
1. First Mobile Jackpot Winner Story - Slotland Casino Player Wins..

(24/03/2006)



2. VIP Player Wins A Total Of $2400 Playing His Favorite 'Lucky..

(05/02/2006)



3. Slotland Casino Player TEAMRN Tells The Story About Winning On..

(01/12/2005)



4. Wished Upon A Falling Star Party Casino Player Wouter Won A..

(03/09/2007)



5. The First Million Dollar Jackpot Of The Year Was Hit By Party..

(23/04/2007)



All Casino Jackpot Winners Stories
WINNER STATS:

USA - Is This Your GEO?
We try to show casinos that are available in your location (jurisdiction). If that's not your country (you're on a trip/vacation or use a VPN), you may change it below.