Housewife From Deleware Wins $96,688 Progressive Jackpot At Slotland..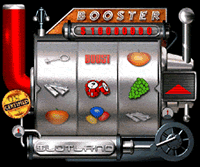 CLASSOF65, a housewife from Deleware, USA, won progressive jackpot of $96,688 on June 12 2000 playing at Slotland casino. She shares her experiences of winning big and tells to the casino manager her story. Sometimes it pays to send the kids and hubby away...
"I just can't begin to tell you how much fun I had on your casino page. Slotland just blew me away once I got going on your machines. I am a housewife in a small Delaware town and generally keep busy looking after my husband, a local real estate agent, and our two sons. Needless to say, I am generally short on energy, patience, and above all time for myself."
"Recently my husband announced that he was taking our sons away to the Pokonos. I couldn't believe my ears. After wanting some peace and quiet for so long, my first thought was - what will I do? Well after enjoying a nice long bubble bath and having a cup of tea, I started fiddling round with my husband's computer. He had showed me how to get on the Internet a couple of times, and so I started to have a look around. Luckily I remembered the search page thingy that my husband always looks up information on. That's how I got to Slotland. When I go to my mom's or my sister's in Reno, we always spend an evening in the casinos. But this is something I always save for when I'm together with them. But I couldn't resist having a look to see what was on the Internet."
"I tried a couple of other links, but they were just plain boring. No fun pictures, and the games were just too simple. On my third or fourth try, I can't remember which now, I came to Slotland. I still can't believe this, and I doubt anyone else could either. Around lunch time I called my friend, Loretta, to ask if she wanted to go to lunch. Well in the end I showed up to lunch a half hour late and $96,688 richer!!! One roll - no luck, two rolls - no luck, and three rolls - bang, I was THE WINNER. Needless to say I kept on playing and have since visited your page several times. I hope you keep working on your pages and bringing on new ideas. Thanks for making my "day off" perfect!!! By the way, Loretta forgave me for being late for our lunch date :-) " said the winner.
Source: Slotland online casino
Related Winners Articles:
1. 'RIVER' Wins $67,878 Progressive Jackpot Playing At Slotland..

(01/09/2000)



2. Slotland Casino's $200K Jackpot Winner Has Gone Fishin'

(20/09/2020)



3. $281K Vegas Vibes Jackpot Winner Says She Plans to Spoil her..

(27/07/2019)



4. Stay-at-Home Mom Wins Record-Breaking $315,124 Jackpot at..

(30/06/2017)



5. Slotland Jackpot: $223,167. Look on Winner's Wife's Face:..

(04/06/2016)



All Casino Jackpot Winners Stories
WINNER STATS:

USA - Is This Your GEO?
We try to show casinos that are available in your location (jurisdiction). If that's not your country (you're on a trip/vacation or use a VPN), you may change it below.