Another Big Jackpot Winner at Slotland Nets Almost $190K on Pearls of Atlantis.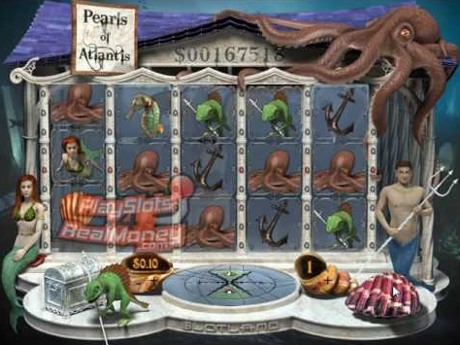 When Slotland's progressive jackpot was nearing a record level at the end of August it was inevitable that it would be won soon. Although
Abigail J.
was shocked when she won the
$189,897
jackpot, we saw it coming. The lucky jackpot winner was playing one of the newest and most elaborate no download slots,
Pearls of Atlantis
, when she hit the jackpot.
Pearls of Atlantis is a 5 reel, 9 payline slot with a 'Wheel of Fortune' bonus game. Like most games, a max bet must be placed to qualify for the progressive jackpot. Although Abigail doesn't always bet max she's certainly glad she did this time.
"I usually bet lower amounts when I play slots as I simply enjoy the thrill of playing and seeing the symbols fall into place," said the excited jackpot winner. "That day, though, I felt somehow lucky so I decided to up the bets for some rounds. I was nervous but I had some smaller wins - and then all of a sudden I was looking at the jackpot! Gosh, was it a shock! Now I'm happy as a bee and grateful to have won such a fantastic amount. Slotland is the best!"
"I'll put some of the money aside for more play," she said. "And I'll pay some bills. But I'm also going to take a course in open water diving in the Bahamas or Fiji or some other tropical destination! I won the jackpot playing Pearls of Atlantis so maybe I'll get lucky again and discover the lost continent!"
Unlike other casinos' jackpots that never seem to be won, Slotland's jackpots don't usually accumulate for more than eight weeks or so. Over the years, the average win has been about $150,000.
"Naturally we never know when our jackpot will be hit - it's all down to luck," said Slotland casino manager Michael Hilary. "But since it's been hit so regularly for so many years both our staff and our many long-term players just get a feeling when it's about to be won again."
The Slotland jackpot increases quite quickly again after it's reset to $50,000 following a win since most of our slot games are tied to the one jackpot. We offers twenty-six one-of-a-kind online slots and video poker games at Slotland. Several are also available as mobile slots.
Watch for the new auto-racing themed game will launch later this month!
About Slotland Casino
Established in 1998,
Slotland
is renowned for its fairness, security and sincerity. Slotland's progressive jackpot is currently won on average every 6 weeks and usually stands at over $100,000, making it one of the most frequently won jackpots on the Internet. In 2005, the pioneering entertainment company introduced its first slot machine for the mobile phone/PDA platform. Slotland has been voted "Most Unique Slot Site" and "Best Progressive Jackpot Site" by Strictly Slots Magazine readers, named "Best Web TV" in a Gambling Online Magazine poll, and selected as a finalist in the ME Awards "Best Mobile Gambling Company" category.
Related Winners Articles:
1. Two Slotland Jackpot Winners in a Row for Almost $250K

(25/04/2012)



2. $128,734 Slotland Jackpot Win Will Pay for Daughter's College..

(12/06/2011)



3. Slotland Newbie Wins $104,514 Progressive Jackpot on Booster..

(10/01/2011)



4. Jackpot Winner Will Play Santa With Sack Full of Cash This..

(01/12/2010)



5. Only Weeks After Last Big Jackpot Win Canadian Wins $107,064..

(28/09/2010)



All Casino Jackpot Winners Stories
WINNER STATS:

USA - Is This Your GEO?
We try to show casinos that are available in your location (jurisdiction). If that's not your country (you're on a trip/vacation or use a VPN), you may change it below.