Jackpot Winner Will Play Santa With Sack Full of Cash This Christmas After Win on Jacks or Better.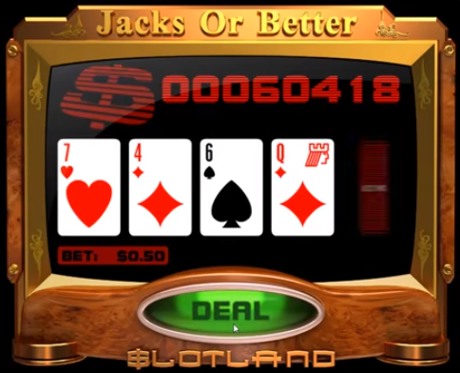 Progressive jackpot won on Jacks or Better, a classic video poker game that's just been improved with enhanced graphics and sound effects.
We've just paid out another big jackpot, this time to a first-time grandmother who's looking forward to playing Santa this year. She hit the Slotland jackpot last week and won
$78,112
. The player known as ROBINSONJ, who's expecting her first grandchild in the new year, won playing her favourite Slotland game, the Jacks or Better video poker slot game.
The jackpot winner has been playing regularly at Slotland for about 3 years. She said that she finds playing slots to be relaxing and entertaining but that she knows when to stop.
"I have a small budget that I play with," she said. "You can play quite awhile with not much money if you get lucky with free spins and bonus games."
Smaller wins over the years have kept her going, but this is the first time the avid slots player has won anywhere near this much money.
"I was shaking! I couldn't keep my eyes off the screen!" she said. "The timing couldn't be better with Christmas coming and a new grandchild to shop for!"
This is one of the biggest progressive jackpots to be won on Jacks or Better. Just over a year ago another grandmother known as QAZMLP won $175,812 on the popular game. Slotland Casino's most recent jackpot winner was at the end of September when WINNIPEGLEG won $107,064 on the Wild Heart video poker slots game.
"All of our games are tied to one big progressive jackpot," said Slotland's Manager Michael Hilary. "Part of every max bet placed in any of our games goes into the jackpot pool until some lucky player spins a winning combination."
To win the jackpot in Jacks or Better ROBINSONJ placed a $10 bet and then got a Royal Flush.
Jacks or Better is one of 7 popular games that Slotland has recently released in a new Flash format that enables the designers to include even more incredible graphics and sound effects. Like all Slotland games, their unique Jacks or Better video poker slots game is available only at Slotland.
Slotland Casino
now has 19 one-of-a-kind slot machines and video poker slots games. Six of the most popular games are also available on mobile phones and PDAs. The jackpot at Slotland was reset to $50,000 after this win and is already over $60,000.
Related Winners Articles:
1. Slotland Online Casino FORBBSAKE Won Over $1,000 In 3..

(24/12/2009)



2. Three Major Big Jackpot Wins in a Row Set Record at Online..

(05/11/2008)



3. Slotland's Monthly Winner Story - TOZE Wins Over $3K While..

(12/04/2007)



4. Another Winner Story From Slotland's Player DIANE35 Who Won..

(10/01/2007)



5. Monthly Slotland's Winner Story - BOGUSKA Wins Big Again

(15/11/2006)



All Casino Jackpot Winners Stories
WINNER STATS:

USA - Is This Your GEO?
We try to show casinos that are available in your location (jurisdiction). If that's not your country (you're on a trip/vacation or use a VPN), you may change it below.