Monthly Winner Story From Slotland Casino Player RAGERRM.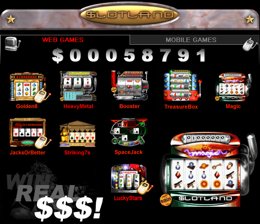 With a slight change of pace in this month's story,
RAGERRM
explains one of the greater reasons for spending her time at $lotland. On top of the promise of becoming one of the elite jackpot winners, $lotland casino strives to assure each and every player an ongoing satisfactory online gambling experience. And no one can explain it better than a long-term loyal player like RAGERRM! Congratulations to RAGERRM for her loyalty and enthusiasm! $lotland has deposited $1,000 to her player account (VIP players get DOUBLE the regular bonus of $500) and trust this winner story inspires others to enjoy the ride to the big jackpot, because it can take a while to reach it! Here is her winner story:
I have been a player at Slotland for many years. Even though I have not won a huge amount of money playing the games, I still feel that my big win was in the promotions or competions. I really enjoy the challenge and the brainstorming.

In June, 2005, I won the 3rd place in the flower power contest winning $250. In the best Thanksgiving recipe promotion, I won first place with a $500 award. With these special wins, I am able to play my favorite games at Slotland and I love the idea of winning with my rewards from Slotland. When playing, I can actually sit back, relax and enjoy myself as I enter the gaming realm.

Every now and then I will visit other online casinos but my heart belongs to Slotland. I feel lucky just being a player at Slotland and participating in the wonderful contests at my favorite casino!!!

Also, the members of the staff are very kind and considerate. That is why I consider myself as a winner! My motto for Slotland is "the player that plays is a player that stays." So join me and let's be a true Slotland Winner!! Much gratitude to Slotland!!
Source: $lotland online casino
Related Winners Articles:
1. Med Student Wins $122, 506 Jackpot At Slotland And Pays Off His..

(10/09/2005)



2. Sharon P. Tells 'Always play maximum coins when playing the..

(19/06/2006)



3. Monaco Trip Raffle Promotion's Winner Gives The Tickets To His..

(12/06/2006)



4. Winner Story Of Lucky Treasure Box Slots Player At Slotland

(04/06/2006)



5. Fourth Jackpot Of The Year At Slotland Casino Was Hit By Player..

(23/05/2006)



All Casino Jackpot Winners Stories
WINNER STATS:

USA - Is This Your GEO?
We try to show casinos that are available in your location (jurisdiction). If that's not your country (you're on a trip/vacation or use a VPN), you may change it below.