October 2004 Online Casino Winners Stories.
October 30, 2004. $22,490.25 Triple Sevens Jackpot Winner Valerie T. Decorates Home.
Valerie T. won $22,490.25 on Triple Sevens on October 29, 2004 at All Slots online casino. Triple Sevens is a Microgaming online progressive blackjack game where for a fixed $1 side bet players have a chance to win a progressive pot that starts at $10,000 and grows. Triple 7's is played with five standard 52-card decks; Dealer must stand on all 17. It takes just 10 minutes to hit the latest jackpot. The..
October 27, 2004. October Big Winners At Jackpot Joy - Caroline W Wins GBP19K On Tycoon.
With Halloween approaching 2 of JackpotJoy's members have been playing trick or treat on JackpotJoy's progressives and have walked away with a little more than a hot toffee apple and a fruit salad chew. First up was Caroline W of Norfolk who knocked on the Tycoon's door and persuaded him to part with almost £19,000 jackpot. Boodiful! "I couldn't believe my luck! I had clicked the spin button..
October 25, 2004. Jackpot Deuces Jackpot Helps New Family On The Way - Moses B. Wins $46,020.16 At Wild Jack Casino.
Moses B. won $46,020.16 progressive jackpot on Jackpot Deuces on October 19, 2004 at Wild Jack online casino. Jackpot Deuces is a Wild Deuces video poker game with progressive jackpot. The game is available at most of the Microgaming online casinos. Wild Jack is one of the Jackpot Factory casinos, now offers over 170 top quality download and flash online casino games, and 100% match bonus up to $100 free..
October 22, 2004. Lynne won $12,311.83 Jackpot on Wow Pot Progressive Slot at Yukon Gold Casino.
She wrote to the casino: "I really enjoy your casino Yukon Gold. You have a large variety of games, especially slots. I have been playing for 6 months to a year. I like several games including Thunderstruck, Wowpot, Couch Potato, BreakdaBank, Rapid Reels, Diamond Deal, Cashsplash 5 reels, Megaspin Double Deal, and more just to name a few. I also enjoy the table games roulette and black jack. When I won my..
October 20, 2004. German Player Won $55,121 While Playing Treasure Box Slot Machine At Slotland.
On October 19, KLAUS38893 from Germany won $55,121 while playing Treasure Box slot at $lotland. In attempting to contact our winner, we found that he does not speak English, but fortunately his daughter speaks English and was able to explain her father's good luck... He said: I actually was the one who introduced my father to Slotland, back in 2001. I had been playing for a few months and my father came by..
October 20, 2004. Dream Came True For Janie P. Who Won $33,543.00 On Tunzumunni Slot.
Janie P. won $33,543 jackpot while playing on Tunzamunni slot on October 19, 2004 at All Slots online casino. Tunzamunni is a nickel progressive slot machine with 3 reels and single payline where for a small max bet of just $0.25 per spin players have a chance to hit large jackpot starting at 10,000 credits. The recent Tunzamunni winner Jannie recalls: Did anything unusual happen the day that you hit the..
October 16, 2004. 'William H' wins 281,865 progressive jackpot on Rags to Riches.
Actually, this is not quite true, as it was in fact 'William H's wife who decided to play a few more spins on Rags to Riches while her husband called it a night. Just as 'William H' had gotten into bed, the calm of the evening was pierced by his wife's shouting near the computer. Knowing that she was online, playing at InterCasino, William quickly sprung from his bed in anticipation of a big payout. But..
October 11, 2004. Loryn from Florida was the lucky winner of EH $20,000 dream car giveaway.

Her advice to you is "I can't believe I won!......It pays to play...I'm thrilled!...Thanks to English Harbour for putting a smile on my face!"
October 10, 2004. Just Returned From A Local Casino And Won Online - Ray B. Hits $11,942.80 On Triple Sevens.
Ray B. won $11,942.80 playing Triple Sevens progressive blackjack game on October 9, 2004 at Colosseum online casino. Triple Sevens is a progressive blackjack game where for a fixed $1 side bet players have a chance to win big growing jackpot. You'll win if you have three 7's on the first 3 cards of the same hand. Ray told to the casino manager: What did you do when you realized you'd hit the jackpot? I..
October 10, 2004. Bullion Bonanza Progressive Jackpot Winners List At JackpotJoy.
It doesn't take long to win a jackpot. Player Brian Clough R.I.P. used to say that it only takes a second to score a goal, and whilst it could only takes a second to win a jackpot at Jackpotjoy, Lisa B from Wigan won hers in more sedate style, taking just under an hour to sign up, play for real and then see her jackpot hit her account. "I was having a bit of a quiet day as I had an upset stomach. I..
October 7, 2004. Rick F won the Ford Mustang V6 Convertible in Vegas Road Trip Promotion.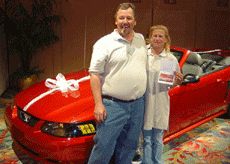 The Fortune Lounge Vegas Road Trip promotion was a huge success! Since the start of the promotion, we gave away $200,000 in prizes as well as the Ford Mustang Grand Prize. Congratulations to Rick F for winning the Ford Mustang V6 Convertible..
Read Full Story
October 5, 2004. Sherry B, from Oklahoma, hit a Cash Splash Jackpot at 7 Sultans on September 25, winning $23,168.46.
When it finally hit me that I really did hit the jackpot I sat there looking at the screen. I was in shock, I didn't know if I wanted to cry or scream. Then I went in and woke my husband up and told him about it. I am still in shock....it is a dream come true. My Holiday Dream destination I guess would be in Las Vegas, I'd have the money to play at all the casinos and see all the things there are to see and take my kids to the Grand Canyon..
read full winner story
All Casino Winner Stories
Previous Monthly Casino Winners News:
Oct '04
Sep '04
Aug '04
Jul '04
Jun '04
May '04
Apr '04
| | | | | |
| --- | --- | --- | --- | --- |
| Player | Win | Game | Date | Casino |
| William H | $281,865 | Rags to Riches | Oct 16 | InterCasino |
| Moses B. | $46,020 | Jackpot Deuces | Oct 25 | Wild Jack |
| Janie P. | $33,543 | Tunzamunni | Oct 20 | All Slots |
| Caroline W | £19,000 | Tycoons Treasure | Oct 27 | JackpotJoy |
| Valerie T. | $22,490 | Triple Sevens | Oct 30 | All Slots |
| Lisa B. | $19,206 | Wow Pot | Oct 29 | River Belle |
| Lisa B | £11,284 | Bullion Bonanza | Oct 10 | JackpotJoy |
| Edgar O. | $13,993 | Cash Splash | Oct 09 | Grand Hotel Casino |
| Player | $12,311 | Wow Pot | Oct 22 | River Belle |
| Ray B. | $11,942 | Triple Sevens | Oct 10 | Colosseum Casino |
All Winners of October 2004, Top Games and Daily Stats »
WINNER STATS:

USA - Is This Your GEO?
We try to show casinos that are available in your location (jurisdiction). If that's not your country (you're on a trip/vacation or use a VPN), you may change it below.