Monthly Winner Story: Slotland Casino Players Wins On Both Lucky Stars And Booster Slot Machines.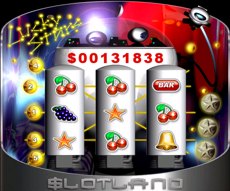 This month we offer another great winner story, this time from player INHALED, who worked Lucky Stars and Booster slot machines into quick fat wins at Slotland online casino. Here is the winner story:
ANYTHING IS POSSIBLE (more than once..)
As a dedicated and loyal player of Slotland for years I have found them to be one of the most generous online sites, whether winning the yearly prize of $25,000 or monthly prizes of $2,000. So having played out my allotted funds for the day, I was awarded a small bonus and much to my surprise and excitement, while playing Lucky Stars, 3 stars came up and I won $600!
Being the true gambler that I am, I continued to play instead of withdrawing the funds, and Lo and Behold!!! 3 stars once again, YIPPEE!!! If that wasn't lucky enough, I then continued on, figuring my luck was with me that day and once again 3 stars!!!
I decided to switch and try Booster and after playing $50.00 I hit the flashing "Booster" and thought, "Sure, why not go for it" and much to my awe and surprise, I hit the 3 keys and won another $1,000!
Not bad for a hour's play (now if I could only find a career that paid the same!). For those of you who have doubt, it is possible to win, especially at SLOTLAND!
Our thanks to INHALED, along with $1,000 into her player account (remember, VIP Players get double the bonus!) for sharing this story. Remember that following your instincts will pay off, especially at Slotland!
Remember, although winning the jackpot is not easy at Slotland, winning is easy... Spin up an impressive win and spin Slotland's support team a tale of how you did it and you may find them spin $500 into your account! Slotland casino offers unique online slot machine games with shared progressive jackpot of $100,000 and more. New players can claim 100% match bonus up to $100 free. You can open a single account with Slotland and play on your home PC or mobile phone.
Source: Slotland Casino
Related Winners Articles:
1. Monthly Winners List Of Slotland Online Casino

(10/06/2008)



2. Lucky Stars Brings Some Cash To Veteran Slotland Online Casino..

(08/09/2007)



3. 9th Birthday Party And August Winner Story From Slotland Online..

(07/08/2007)



4. Slotland Casino: Monthly Winner Story In February

(09/02/2007)



5. Another Winner Story From Slotland's Player DIANE35 Who Won..

(10/01/2007)



All Casino Jackpot Winners Stories
WINNER STATS:

USA - Is This Your GEO?
We try to show casinos that are available in your location (jurisdiction). If that's not your country (you're on a trip/vacation or use a VPN), you may change it below.