February 2006 Online Casino Winners Stories.
February 27, 2006. 7 Sultans Casino Player Linda S. Wins $14,470 Progressive Jackpot On LotsaLoot Slot.

Linda S. won $14,470.07 playing LotsaLoot at 7 Sultans online casino on February 25, 2006. "I couldn't believe it when I won. I just kept staring at the screen. I was afraid to clear the screen, I thought it would disappear. I wasn't playing long before I hit the jackpot, maybe 15 minutes. I've been married for 33 years to a great husband. I have two children and one adorable grand daughter." said the winner.

February 26, 2006. Anyone Can Win it Big! Gail G. Wins $47,188.83 Playing Cash Splash At All Slots Casino. Gail G. won $47,188.83 progressive jackpot playing Cash Splash Slot at All Slots online casino on February 26, 2006. " said the winner. Cash Splash is a popular 3 reel single payline slot machine game developed by Microgaming. Now you can play enhanced 5 reel 15 payline version of the game connected to the shared progressive jackpot. The recent winner Gail G answered the following questions of a Jackpot..

February 25, 2006. Joan M Hits Big 26,000 Pounds Sterling Jackpot On Popular Tycoon's Treasure Slot At Jackpotjoy. Moments after her astounding £26,000 Tycoons Treasure progressive jackpot win, Joan M, was so shocked that she was having trouble believing it had all really happened. "I've never been lucky, I can NOT believe it!" Joan said. Joan is normally a big Bingo fan, but on that fateful night she found herself inexplicably drawn to Tycoon Slots game that offers massive progressive jackpot. "I..

February 25, 2006. International Casino Games Finalist Prepaires For The Grand Prize.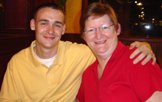 This is not the first time that Fortune Lounge's ICG 2005/06 finalist Bert's won. "I have won jackpots playing slots and video poker at land-based casinos. The largest was $6,000. I am very excited about the cruise and have asked my sister to go with me. I would love to win the $250,000." Bert is one of the finalists who will be playing for the grand prize of $250,000 in cash during a 7-night trip on the Caribbean Princess. $250K will go to one of the lucky players aboard this dream cruise.

February 24, 2006. Progressive Jackpot Winning Of $280,927.71 From InterCasino's Award-Winning Video Keno. (London, UK) - The 'Excitement you can Trust' online casino got a bit more exciting this week, as Cathy T. cashed in a cool $280,927.71 jackpot from InterCasino's Video Keno Progressive Jackpot. Marking one of the biggest progressive jackpot wins this year, Cathy was eager to express her gratitude to InterCasino manager Ryan Hartley. "I never thought I would be the one to win a jackpot like this, but not..

February 21, 2006. Marie J. F. Hits $32,023 Jackpot On Popular Wall Street Fever Progressive Slot. Player Marie J. F. won $32,023 progressive jackpot on Wall St. Fever slot on 17 February 2006 in Europa Casino. Originally released as classic 3 reel progressive slot with $0.10 coins, Wall Street Fever is now available in 5 reel version with 5 paylines and more chances of winning on every spin. Get 3 Wall St. signs to win the grand progressive jackpot - accumulated from the deposits in multiple Playtech-powered online casinos.

February 18, 2006. Sandy R. Won A Ticket To The Caribbean Cruise In International Casino Games Promo. Sandy R. won a ticket to the Caribbean Cruise at the International Casino Games 2005/06 organized by Fortune Lounge. She told a story about her online gambling experience at Royal Vegas online casino: "Hi, to all the Fortune Lounge players and staff. My name is Sandy R. and I have an exciting story to tell. I am single and the mother of four children, nine grandchildren, one great granddaughter and two..

February 15, 2006. Over $62,000 Won In Last Two Days Alone At InterCasino. February 13th and 14th have been good days for InterCasino players with some big wins already taking place in the early days of the week. In fact, a quick glance at the latest winners section on the InterCasino site will show you that over $62,000 of big purse prizes have already been won. Doing well so far is BabyGrl81 who bagged $10,973 yesterday morning on the extremely popular Bejeweled Slots. The..

February 14, 2006. New Player On VIP Casino Wins BIG On Rags to Riches Progressive Slot. (London, UK) - A new VIP Casino player Jemo who registered as a new player on February 12th went from Rags to Riches a day later when he struck lucky and won $131,250 after depositing just $100 on the Rags to Riches progressive slot. The 3-reel single payline Rags to Riches slot game has a progressive jackpot, where the pool builds up every time players spin the reels until someone spins the coveted..

February 10, 2006. Georgina T. Hits Her $25,140 Bullion Bonanza Jackpot On Time. This month Jackpotjoy has another Bullion Bonanza jackpot winner. Georgina T. is one happy lady - she's got a new fiance, she's moving into a new house and now she's won a NEW $25,140 Bullion jackpot! Bullion Bonanza is a popular 3-reel slot machine game with gold mine theme, 3 paylines and big progressive jackpot. So what does Georgina put all this good luck down too? "I think if you're a good person..

February 7, 2006. William W. Wins Big $115,830 Jackpot Playing New Spin $2 Million Slot At Monaco Gold Casino. William has been playing Spin $2 Million Slot At Monaco Gold Casino when he hit $115,830.00 jackpot on February 7th, 2006. Spin $2 Million is a new non-progressive slots game allowing to win up to $2 million on a single spin. Here is what we found out about the winner: William who goes by Bill has 4 children and 2 grandchildren (10 & 15 years old). He's retired from a Management position for programming..

February 5, 2006. VIP Player Wins A Total Of $2400 Playing His Favorite 'Lucky Stars' Slots At Slotland. STARSINMYEYES did not hit a big jackpot but with a small original deposit of $200 she managed to take home a total of $2,400 in winnings! Here is her story about her online gambling experience at Slotland casino: What a way to begin the New Year! I made a $200 deposit and started to play one of my favorite games, "Lucky Stars". After winning fairly consistently at a minimum bet of 50 cents per line and I..

February 4, 2006. Monaco Gold Casino Player Nancy M. Wins $30K On New Spin $2 Million Non-Progressive Slot Game. Monaco Gold Casino is excited to present its newest, big Spin $2 Million Winner. Nancy M., a mother of 3, now residing in Fort Lauderdale, FL won a grand total of $29,757.50 on February 4th, 2006 playing the Spin 2 Million$ slot machine. Spin $2 Million is the latest non-progressive slot machine game (developed by Playtech) that provides online casino players with a chance to win $2 Million jackpot on a..

February 4, 2006. Perfect Planet Slot Made Prestige Casino Player Robert H. $47,935.20 Richer. Lucky Prestige Casino's Player Robert H. won $47,935.20 while playing Perfect Planet slots game on February 4th, 2006. The winner told that he is a Plumber in real live. Here we provide the interview with Robert H. How did you come to Prestige online casino? I came through the affiliate (Contender) and they said that Prestige was the best online casino, then I joined up. Have you ever won before with the..

February 2, 2006. Slotland Casino Presents Its January Winners - Over 100 Players Received Gifts And Bonuses. January has proven to be a rich month, and a harbinger of more rich wins throughout the year of 2006! In addition to Slotland's first jackpot winner of 2006 (where COWGYRLGHOST won $155,917 while playing Striking Sevens), there are a number of players cashing in some awesome wins.. And to top all of this, there was the casino's regular monthly promotion which dropped loads of cash into our players' hands...

All Casino Winner Stories

Previous Monthly Casino Winners News:
Jan '06 Dec '05 Nov '05 Oct '05 Sep '05 Aug '05 Jul '05


Player
Win
Game
Date
Casino
Cathy T.
$280,927.71
Video Keno
Feb 24
InterCasino
Jemo
$131,250.00
Rags to Riches
Feb 14
VIP Casino
Robert H.
$47,935.20
Perfect Planet
Feb 04
Prestige Casino
Gail G.
$47,188.83
Cash Splash
Feb 26
All Slots
Megan A.
$40,059.70
Treasure Nile
Feb 15
All Jackpots
Joan M
£26,000.00
Tycoons Treasure
Feb 25
JackpotJoy
Georgina T
£25,140.00
Bullion Bonanza
Feb 10
JackpotJoy
Karlysmom
$32,425.00
Multihand Video Poker
Feb 16
InterCasino
Marie J. F.
$32,023.00
Wall Street Fever
Feb 21
Europa Casino
Jim N.
$27,224.25
Caribbean Stud Poker
Feb 25
Prestige Casino
All Winners of February 2006, Top Games and Daily Stats »

WINNING STATS: GAMES | CASINOS | COUNTRIES | PLAYERS | SOFTWARE